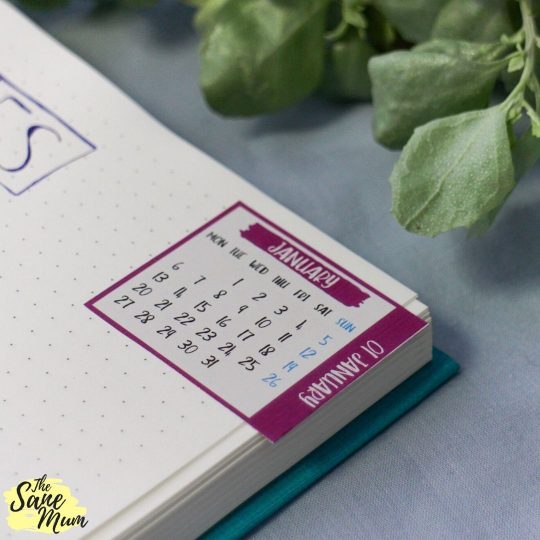 Today, I am writing to you after a few days of hiding out in my bedroom sick – 'quarantined'. Not something that we as mums usually get to enjoy when feeling under the weather, but hubby was home and took over all the homeschooling, cooking and general life stuff, while Miss 8 provided me with copious amounts of 'get well soon' crafts!
So while for some of those days I was an absolute write-off, I managed to spend the rest of them in the comfort of our bedroom working on the few projects that have been brewing in my head for the past couple of months!
One of them is now complete as far as setting it up and is already up and running: The Sane Mum's online shop with digital downloads! It only has a few products at the moment – printable planner stickers! – but I am very proud of the progress! The printables turn out beautiful when printed and the photos in the shop are quite Instagram-worthy, too! (If I may say so myself! ;))
What are my Printable Planner Stickers
The printable planner stickers in my shop are ones that I designed to help me stay organised and productive in my busy day-to-day life. I love that the stickers save me a whole lot of time when it comes to planning out my week, or using a habit tracker – I used to draw these things out by hand!
These stickers have already proven themselves to be amazing – I have been planning much more efficiently and have been much more productive since designing them and using them! I hope they help you stay sane as much as they helped me!
Effective planning and why you should use planner stickers
Is your planner a case of form over function?
My top tip for planning effectively, would be: plan the time to plan the week ahead! Be it on a Sunday evening or Friday afternoon, but take the time to sit down ahead of the week and jot down the appointments, events, goals and to-do's for the upcoming week.
I love using my planner stickers because they make my planner look neat without spending lots of time on hand-drawing the header letters, weekly spreads and other tables. When you start your bujo journey (bullet journal), or planning journey in general, it is so easy to let the form of your planner surpass its function.
Trust me, I know – I've been there! And while I spent a lot of time 'planning', I wasn't very productive as I didn't have that much time left to take action on those plans! I came to this realisation by taking stock of my timetable and working out where my time and energy were going. I found that I either spent a lot more time on "planning" than I needed to, or I didn't plan at all and just rolled with it.
This has now changed and this realisation is what drove me to creating my planner stickers. And I've got to say – since sitting down, honestly analysing my schedule, time blocking my week, creating these stickers and teaching myself to plan more effectively, I have achieved so much!
It's important to remember that your planner is meant to be a helpful tool for you, not a time-sucker. A tool to help you stay more organised, achieve your goals and plan out projects. It's not an art journal.
But what if I enjoy decorating my planner?
As I said before, your planner is meant to be a helpful tool for you to work with effectively. A tool to help you stay more organised, keep track of appointments, plan out your projects, achieve your goals.
If you enjoy drawing and decorating your planner, that is absolutely okay, but it should not be happening during the time you've set aside for planning and certainly not at the cost of your productivity. If you enjoy decorating your planner, plan a time slot for doing just that as a hobby, but don't kid yourself that that in itself is planning.
Perhaps even consider getting a separate art journal? I'm not saying you have to, but if you give yourself the space to explore the art further, you may discover a talent and satisfaction that far surpasses drawing tables and doodling in your planner!
The printable planner stickers in my shop
Currently you can buy a printable habit tracker, a weekly time blocking sticker and two printables that I am mostly proud of: month stickers that fold over to become a tab on your planner's page (you've got to check them out!) and header stickers with affirmations – to help you with running a beautiful planner and with practicing regular positive affirmations (just pick a colour and an affirmation that resonates with you on the day and get planning)!
These stickers help me plan effectively by giving me a visually beautiful planner, without wasting precious time on decorating it by hand (which lets face it – I was never that great at to begin with!).
I hope they help you stay sane as much as they helped me!
Love,
Ania
PS: Over the next few days more stickers will be becoming available in the shop. First up will be my meal planning sticker, but as I'm learning this all as I go, it takes me a while to upload the products, so please bear with me! ;)