Christmas is just around the corner and I've got to say – I truly love it and I look forward to this time of the year much more since becoming a minimalist mum! In the past couple of years, we have been creating a little tradition of our own: we have been setting up alternative Christmas trees! I absolutely love it and the kids love it too, in fact, after using a potted plant Christmas tree last year, this year we settled together on the idea of setting up a ladder as a Christmas tree alternative! And it looks even more spectacular than I imagined!
Alternative Christmas trees – but why?
You see, this alternative Christmas tree gig is quite a new tradition for us! For years we used to set up the popular, plastic Christmas trees, like regular people! ;) One of my first posts on this blog was about just that: a satire look on perfection and Christmas: How to dress the Christmas tree perfectly when you have small kids!
But one thing we can say is that we have never actually purchased one of those plastic trees! Our first one was a hand-me-down given to us when we first moved out together and when that tree broke a few years later, we really struggled with the idea of replacing it and contributing to the landfill! Luckily, at exactly that time a friend bought a house with a Christmas tree which she liked more than her old one, so we got a second hand-me-down tree! And God knows I do love hand-me-downs!
So where is that tree now? If you've been following me for some time, you'll know that we sold/gave away most of our possessions in 2017, before heading off for our caravan trip! That's when I donated the tree we had along with other Christmas decorations to a lady in need. That's also when I decided that when we come back, we will create a tradition for our kids to remember: using alternative Christmas tree ideas to get the family getting creative and having fun together!
Potted plant Christmas Tree
Last year, we followed a very simple idea! We set up a potted plant Christmas tree by bringing in our potted olive! It looked spectacular and brought us lots of joy! Unfortunately, as it was a tree that was used to our hot, Kalgoorlie weather, it wasn't too happy with the indoor conditions. It ended up looking pretty sad by the end of the Christmas season! It did perk up and is quite happy now that it's been back outside for a year, so we decided to come up with an alternative to bringing it back in… and that is when the idea of a ladder as a Christmas tree was born!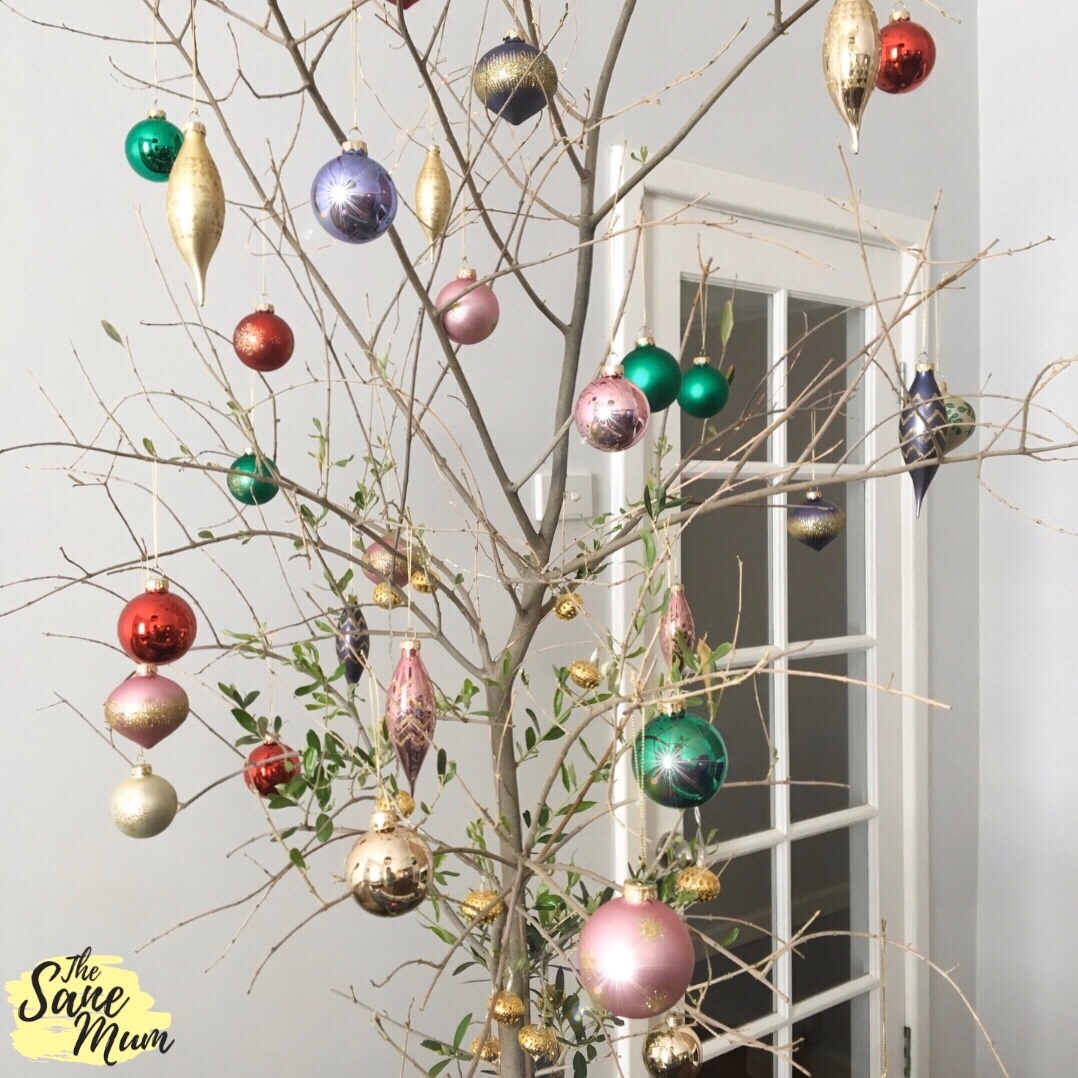 I would definitely use a potted Christmas tree again, but it would have to be from a plant that already lived indoors to avoid it getting too stressed by the change of scenery!
Ladder as a Christmas Tree
This year we took the idea of an alternative Christmas tree to a whole new level! The kids and I sat down and looked through Pinterest one evening, where we found quite a few ideas! The idea that got us all most excited was to use a ladder as a Christmas tree!
So here we are, with the coolest looking Christmas decoration! It almost looks like a display set up for the baubles: the lights being set up on the outside of the ladder truly make the baubles shine! (Pun intended!)
My favourite part of creating these funky alternatives to a Christmas tree is that the kids get really involved and will have this as a memory growing up! I would like to see us try different ideas each year if possible (from whatever materials we can find) so that the process of searching for an idea and then creating it becomes part of the kids' Christmas memories of home. Though I love the ladder Christmas tree so much that I would definitely consider setting it up again next year!
Do you have any funky or unusual Christmas traditions? What are your best childhood Christmas memories?